I apologize in advance for the length of this post, but if you have not been able to choose just one career, I wanted to offer you a guide that allows you to finally move towards your goals.  There are exercises below you can follow to find out what your gifts and intuition have been trying to tell you.
If you have ever thought that you were in the wrong career or if you have many things you are passionate about and could never choose the right path, this guide is for you! 🙂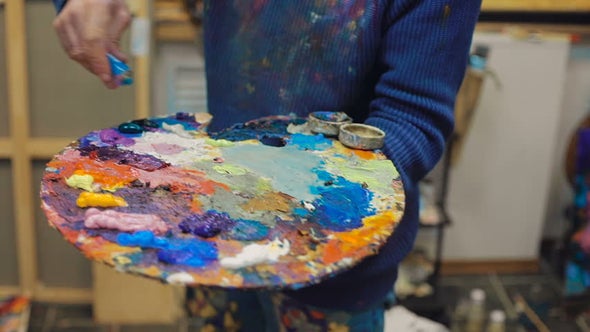 Paint With All The Colors In Your Pallette
We all have many dimensions to us.  Different sides of ourselves that are sometimes shown to the World, and some we keep private.  We are conditioned from the time we are young to pick ONE and only one profession and stick with it.  Society puts pressure on us to choose what we want to "be" and move towards that with all of our abilities.  There are a few critical problems with this formula:
We are usually very young when we are making these big life decisions without any knowledge of the inner workings of the profession we are choosing.

We have no real life experience about the profession and base our decisions only on what others tell us, which can be skewed to THEIR experience.

Some of us want to make our family happy, so we self-sacrifice what WE truly want to do, and move towards what THEY think is right for our lives, even if it's not what we want.
What Happens When…
Here is the biggest kicker of all – what happens when you choose a path that you THINK is correct, and then you hate what you have chosen as a profession?  You have trained for the career, spent countless hours and money towards accomplishing your goal, and then you finally are able to have the real life experience of being employed in the profession and… it sucks!
What happens when you instantly know that you choose the wrong career path, but you have graduated college and everyone in your family is happy that you are finally "on your way"?  Except that inside – you are miserable and you know you've made a terrible mistake.
Here's the good news – Life always offers us a way to make U-Turns.  No matter your circumstance, no matter your age, you can change your life to work for you with a soul purpose that will make your heart sing.
If you are a multi-passionate person with multiple different interests and you have had a difficult time choosing just one career, because you like to do many different things, there is a way for you to move forward…But how?
ANSWER:  DON'T CHOOSE JUST ONE CAREER PATH – CHOOSE MANY & CREATE YOUR OWN!
Many Entrepreneurs have created Companies using their unique visions of taking ALL their gifts and things that they love and turning them into one Company.
For Example:
Here is what I love:
Working and communicating with animals

Helping people unearth what they forgot or gave up on for a career

Using my intuition and empathic gifts

Finding strategies that help others to know their true purpose and build up their inner light

Writing, drawing, being creative

Developing videos and documentaries on personal causes to help bring positive change to those who don't have a voice
On the surface, all of what I've listed above doesn't look like they are linked or have anything to do with each other.  This is where I always got stuck and you may have too.  Picking just one profession out of the list above, would EXCLUDE ALL THE OTHER POTENTIAL AREAS WHERE I COULD AFFECT A POSITIVE CHANGE and more importantly be happy.  If I choose just one profession, it would be a narrow path lowering my chance for happiness and limit the ways that I could express myself.  Let's change that mindset and give you some much needed breathing room and more choices.
This is where the fun part comes in –
What if…
You could take everything that you are not only good at, but love to do and put it together to create one beautiful, unique MASTERPIECE?  No choices needed because you are taking the best of what you have to offer and leaving the rest.  Just like the Master Painter, you would use all of the colors in your palette, not just one.  Make sense?
Bringing It Together
Here is how I brought it all together:
I created a Retreat allowing clients to work with therapeutic horses to build confidence and establish boundaries where needed.  I added in a course on finding your gifts and a step by step roadmap to access your true life's purpose and give you a way to get there.  Other animal's like birds of prey, (Hawks, Owls and Eagles), would be added to create new pathways for clients to connect with their inner guides.
This is an example of how you can do the same thing with your life.  Below are the steps you can take to create your personal masterpiece.  These steps are for you if you have ever needed to make a U-turn and can alter the very direction of your life, but the main thing to remember is to keep it fun.  After all you are the ONLY one who has the TRUE POWER to change your life.
Use These Steps
Ready?  Please make a list of the following:
Step #1:  What are you good at?  What have others told you are good at but you may have thought that everyone can do what you do, but they can't?  Have you always been good at drawing?  Have you been able to pick up and understand other languages easily?  Do you have a quick wit that makes others laugh easily?
Step #2:  What are you gifts?  What were you born with that others do not have?  Are you great at math?  Do you have a deep, intuitive understanding about people that others don't have?  Are you an excellent listener and able to pick up on subtle nuances that many people just don't hear?
Step #3:  What do you love to do?  If money were no object, what would you do?  What makes you so happy that when you are doing it, that time flies?  Do you love working with animals?  Do you like to help those who are disabled?  Do you love to work with flowers or help those who are broken on the inside?
Step #4:  Putting it all together.  Out of all the items that you wrote in Steps #1, 2 and 3, pick the top two and list them here:
What your good at:  1__________________________ 2________________
What are your gifts:  1_________________________  2__________________
What do you love to do:  1______________________ 2__________________
Step #5: Now you should have a list of 6 items that you are good at, are your gifts and things that you love to do.  Take those 6 items and think of profession or business that you could create that would encompass ALL OF THOSE 6 ITEMS. The key is, you must use everything on your list and it needs to be something that you would love to do.
This would be something that would be perfect for you and no one else.  It would allow you to spread your wings fully and to fly towards your goals.
A Word of Caution:
Side Note: Please don't let others negative behavior affect you, especially if you are in the very beginning phases of your new project.  Be prepared that others (especially those closest to you), may not understand your unique vision of how this will look.  It's perfectly ok that they don't get it, because it will be different than anything you probably have said or done before.
On the flip side, you may have started other businesses or tried other endeavors before and for whatever reason they did end on a positive note.  This could make your spouse and family roll their eyes and think "not again!"  It may be easier to tell only those who are your biggest fans and those who you know will support you no matter what.
Otherwise, keep it to yourself.  You must stay as positive as possible throughout the process and you don't need any negativity dragging you down.
Setting Your Goals!
Step #6:  Set your goals for what you have created. Set at least 2 goals, one long term (think big picture, what you want to accomplish in the next 6 months) and one short term goal (what you want to make happen in the next month).  Hint:  Make these goals realistic, but slightly difficult for you to achieve.  You are trying to step outside your comfort zone and do things differently, because that is what will ultimately give you different and better results.
To make things even more interesting, I would urge you to set your goals in a different and new way than you have ever been taught before.  When we think about setting our goals, most of us are taught to create SMART goals.  If you don't know what SMART goals are, click
here
for more info on them.
What I would like you to do, is think about how your goals can affect other people, your current environment and even the World in a positive manner.  You need to be able to push towards those goals, but they must be something that will bring joy to not only you, but others as well. What can you and only you, bring to the table that will help everyone you come in contact with?  Could you create an entire network of Entrepreneurs who would work with you to bring a certain positive outcome to pass that would benefit all?  When you win, everyone wins.  When they win, you win.  Sounds good right?
Think how much better the World would be if we all had these types of goals that not only helped us, but helped others as well.
Now that you are armed with all the correct information, your goals and the change you want to create in your life, the only question is – what are you waiting for?
Upcoming September Connecticut Retreat!
If you want more help in this area or are interested in attending the upcoming Embrace Your Power Retreat on September 30 – October 1st, please click
here
for more information.
No matter where you are in life, you can still make a U-Turn.  You got this! Julie